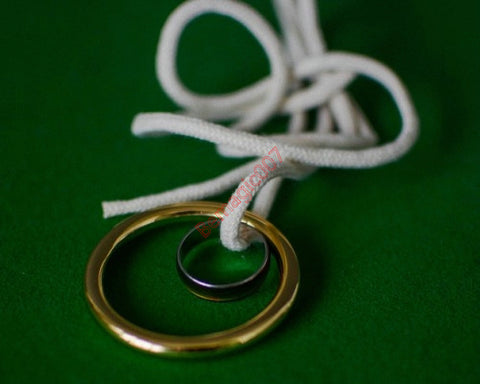 Rings on the Rope - Close Up Magic
Magician shows a long rope and threads a ring on the rope. With magical finger snap, the ring penetrates through the rope instantly.
The ring is again threaded on the rope. To show there is nothing sneaky done by the magician, the magician asks the spectator to tie two ends to make it is a looped rope. To upgrade the security, the magician asks the spectator to hold the ring and rope in their hand.
With a magical blow of air, the ring AGAIN penetrates through the rope, even though they were in the hands of the spectators.
Finally, he throws the ring towards the rope, and the ring threads on the rope!!
You may be able to let the spectator examine all props (rings & Rope) without switching anything.
The color and design of the rings may vary.