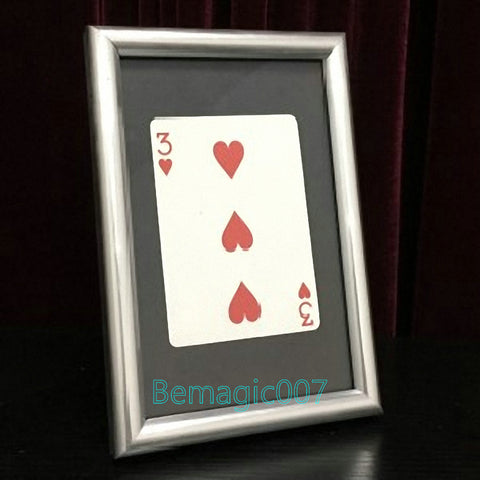 Signed Card Thru The Frame -- Card Trick Magic
Signed Card Thru the Frame

Super magic is not difficult!

Just one requirement is needed: handling that is simple and easy.

Great Ideas make it simple and easy!

Effect:
Magician shows an empty photo frame. It is just an ordinary frame;nothing is special.
The magician asks a audience to choose one card and makes sign on it.
The magician returns the signed card to the deck and reshuffle the deck.

The magician allows cards to spring up and out of his hand so they bounce against the frame.
But when they fall back, the signed card appears inside the frame! That is amazing!
The back cover is opened to show the card definitely has penetrated a solid glass in order to appear inside the frame.

No complicated techniques are needed.

The audience can check the frame before and after the performance to see there is a solid glass.

Frame set, Gimmick, and instructional video are included.