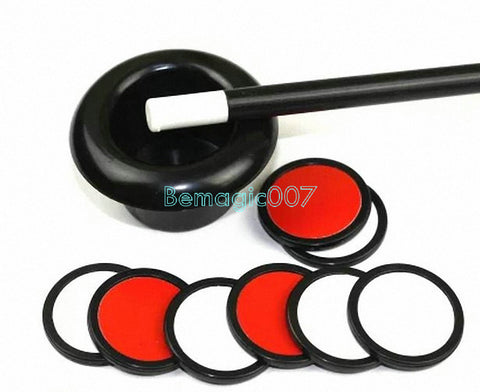 Mystery Of High Hat - Close Up Magic
As seen in "See through card" and "Squeeze Play", tricks created by Sugawara have fascinating visual effects. "Mystery of the high hat" is another masterpiece with the Sugawara touch. A unique idea was introduced to produce the chips one-by-one from underneath the high hat.
As the magician pushes a little hat along the table with a magic wand, eight poker chips appear in a neat row. The four white chips are dropped into the hat followed by the four red chips. Both sides of the chips are shown. With a wave of the wand, the chips reappear in an alternating colour sequence. The chips are dropped back into the hat in the same alternating colour order. The hat is once again pushed along the table. The chips magically change to their original order.
Development story:
The idea of? this magic has started falling on a visually very cute little accessory when traveling. It was a miniature version of a magician's hat that was found in a magic shop in the U.S.A. As simple accesory for a magician's hat is already interesting, but if it can be used directly in a routine by handling is even better. Here's how to simply started the idea of?Mystery of High Hat.