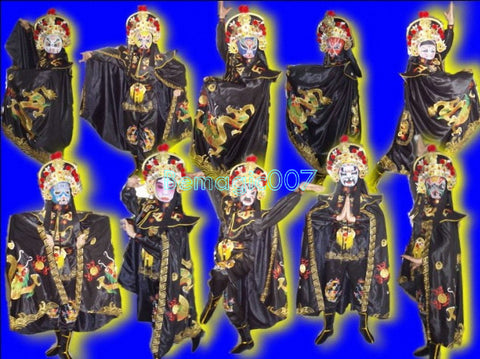 Mask Change (Face Changing ) - Illusions Magic
This amazing Chinese mask changing effect comes with a beautiful Chinese Costume and Oriental Music along with 10 Masks. The Magician will move his body artfully and gloriously with the Special Chinese Music without touching the masks. The masks change continuously with the Chinese Music and body movements. 
Every thing you need is included :
Tilted shoulder super-luxury colorful dragon cloak  for Change of Masks
Cloak with dragon designna for Changing Faces
Colorful dragon coat for Mask Change
Prismatic pattern boots for Face-changing
Helmet for change mask
Nine pieces of Super-high-grade face  for Face Off Change Face
A piece of vanishing and appearing changing face
Internal hat for vanishing and appearing face changing
Trousers for Face-changing
It may Take Just three days to master this beautiful(new) effect using the DVD and special music which is included.
XL(Waistline: 65cm-75cm)(Height: 168cm-172cm)
XXL(Waistline: 75cm-87cm)(Height: 170cm-175cm)
XXXL(Waistline: 87cm-100cm)(Height: 175cm-180cm)