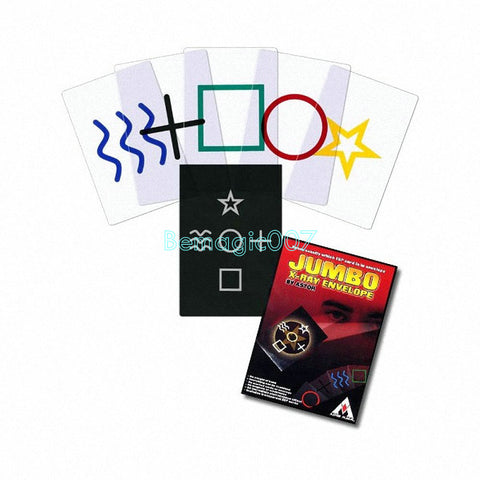 Jumbo X-Ray Envelope -- Mentalism Magic
Magician shows 5 transparent Jumbo ESP cards.
While magician is facing away, the spectator is asked to choose one card and place it into the black plastic envelope, which is opaque, so impossible to see inside. The rest of cards are set aside where they cannot be seen. 
Obviously, there is no clue for the card, making this an impossible situation… 
Even though it is an impossible situation, the magician instantly reads the spectator's mind and tells which ESP card is in the envelope. 
- No Sleight of hand
- Everything can be examined
- No Marked cards or envelope
- No magnets or electronics
- An incredible clairvoyance effect
Comes complete with 1 special black plastic envelope, 5 transparent plastic Jumbo ESP cards and instruction sheet. 
Envelope Dimensions Approximately: 7.5" x 5"
ESP Card Dimensions Approximately: 7" x 4.5"