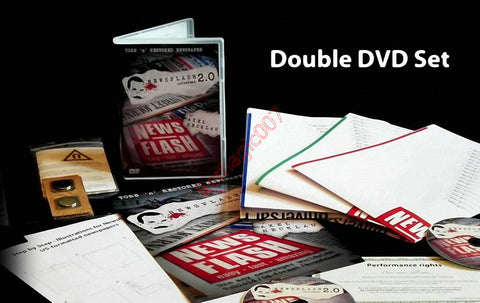 News Flash 2.0(universal) -- Stage Magic
The best Torn and Restored Newspaper impoved, optimized and enhanced.
Tear up a newspaper and restore it lightning fast and extremely visually, at chest high, fullsized and whit totally natural movement. Learn the new 2.0 version from Axel Hecklau.
- present with confidence and ease
- totally natural movement
- extremly visual quick restauration
- presentable even when surrounded by a crowd
- many possible variations
Get all valuable experience and benefit from eight year long research and developement.
Easy overview with the quick tour.
See the preparation an presentation phases in full length step by step from magicians p.o.v.
Now, Comes with 2 DVD set (app. 120 minutes running time). 
You will find versions optimized for broadsheet, tabloid, US-formatted newspapers and posters as well as an Express-Version with a preparation set up time under two minutes (glueless).
In addition to 2 DVDs, you also receive:
- new Gimmicks (new format + Gimmick for Newsflash Express)
- Step by step illustrations
- 3 learning tools (Fold Finder)