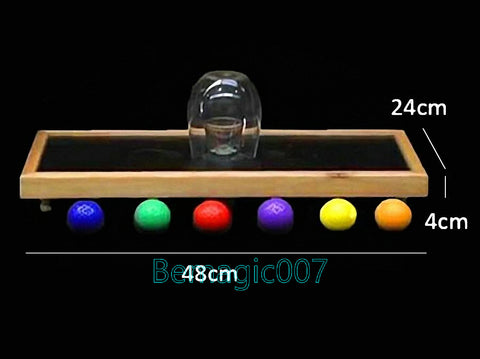 New Hole In One (Wooden Version ) -- Stage Magic
The magician holds a wooden tray containing a shot glass, a brandy glass and six colored golf balls. A spectator is chosen at random and asked to choose any one of the colored golf balls. The magician then explains that he is going to make the selected ball magically appear inside the shot glass! Then he puts those balls around the glass. To make things more difficult, the brandy glass is turned upside down and placed over the shot glass to make it impossible for the ball to be placed inside the shot glass. Finally, a beautiful foulard is placed over the tray so that the magician and the audience can no longer see the tray and its contents.
As the audience counts aloud to three, the magic has happened! When the foulard is removed from the tray, the selected golf ball is sitting in the shot glass which is still covered by the brandy glass! The effect happens in seconds and is truly baffling!
If you like, all the glasses and golf balls can be handed out for examination! No switches and no stooges involved!
Comes with a wooden tray, a shoot glass, a brandy glass, six golf balls and instructional video.