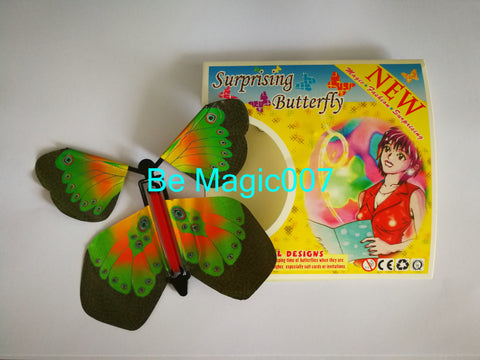 2 pcs/lot Flying Butterfly - Close Up Magic
1: The Flying butterfly caught in a greeting card musical greeting cards in an open greeting cards, music sounded and a lovely beautiful butterflies immediately leap out, this feeling is not it more fun? 
2: Flying butterfly caught in the three-dimensional greeting cards greeting cards, in the open greeting card, the three-dimensional greeting cards where the bird had its own may Ju Han Tai Bear stood up, while only clever butterfly on hand from the masters fly away mischievously , this is not your friendship more life out? 
3: Flying butterfly caught in the birthday greeting card greeting card, when your friends open the birthday party to send you a greeting card, with this sudden flying elf add to the fun, not for the festive gathering Adds a joy and surprise do? 
4: The paired butterflies have a wonderful love the implied meaning of a pair of cards flying butterfly caught in the Valentine's Day greeting cards, attached to gifts to give to their TA, through this little angel, TA will be more understanding to comprehend your It implicitly warm thoughts and love. 
5: You can also fly a butterfly caught in the greeting card business greeting card, let your customers, partners received an unexpected "flying" a surprise ... ... when he picked up the warmth of your greeting written on a small wizard when 1 apathy rigid business dealings is not this a delight of child full of innocence, but also allows your client partner for your soul to heart and touched it? Perhaps this burst of communication, the door opened.